Designing a Management Development Program to Get Results [Webinar]
Date: This date has passed. Please join our mailing list to be the first to know about upcoming webinar.
Duration: 1 hour
Speaker: Cammy Bean, Solutions Consultant, and Dr. Chip Cleary, VP of Design, Solutions & Consulting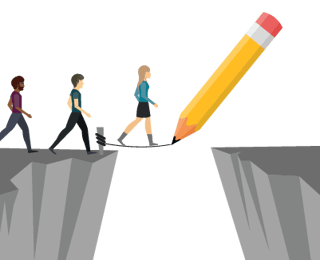 Are you happy with how you develop front-line managers (aka supervisors, team leads, first-time managers)? If so, count yourself among the few. Most organizations are not. In fact, KnowledgeAdvisors (2015) reports that "41% of training on Frontline Leader Development is not applied back on the job."
There's a lot of great content on management skills both for the classroom and online, so what's the problem?
In talking with organizations, we've heard a consistent tale of woe. They start from a position of strength: they know what skills to develop and are able to provide compelling training content but once the training is complete new managers revert to old habits, like the training never happened. Business Wire reports that nearly 60% of front-line managers underperform during their first two years in the seat, driving performance gaps and employee turnover across the entire frontline.
In short, they fall into what we call the Learning-Doing Gap. In this webinar we discuss what we have uncovered about the Learning-Doing Gap and four principles you can embrace to help front-line managers bridge it.